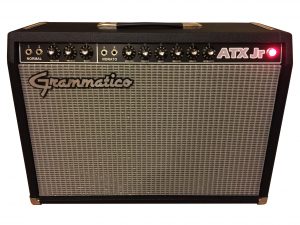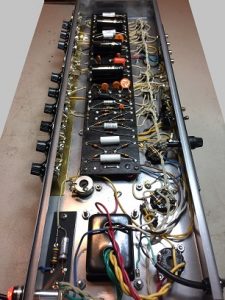 The ATX Jr is the baby brother of the ATX amplifier. The perfect versatile gigging amp. Lightweight, feature rich, spacious sound and just enough power to turn it up for some creamy, bluesy, crunchy breakup with tons of sustain. The tone has the vintage bouncy, pillowy bottom, throaty mids, lots of chimey sweet bell tones with just enough bite and spank, with plenty of honk, quack, chirp and bark. The ATX Jr has all the latest revelations to produce the vintage sounding and effortlessly playable and inspiring amp yet.
$3000

Specs
Power Output: 22 watts
Power Tubes: Pair 6V6
Pre-amp Tubes: (4) 12AX7, (2) 12AT7
Rectifier Tube: 5AR4
Controls:
Speakers: 12" ceramic
Dimensions: (H) 16-7/8 x (W) 24-3/16'' x (D) 9-1/2
Weight: 34 Lbs.
Reviews
Check back for more reviews!
Videos